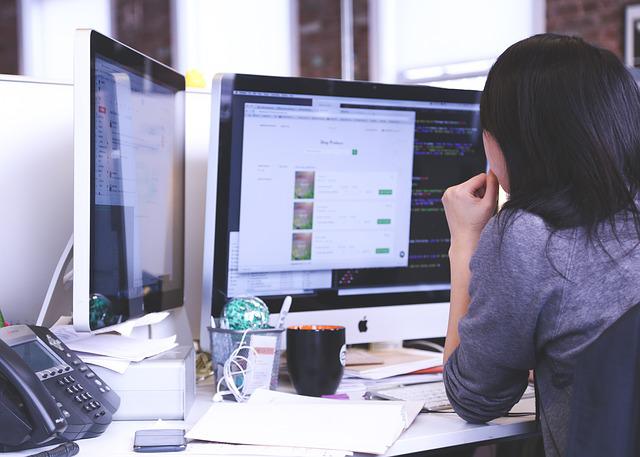 Tamtu.online – is the only ad site that brings together users from four European countries: Slovakia, the Czech Republic, Hungary and Austria.
---
Audience Interests
What are the users of our site selling?
25,000 monthly unique users
370,000 page views per month
500,000 backlinks to you site
Our users sell and buy real estate and cars, household goods, clothing and accessories, electronics and household appliances, pets and baby products.
Also tamtu.online helps you find jobs and employees, craftsmen from various service areas and business solutions.
We know the interests of our users and will help you to fine-tune advertising on the optimal audience.
For the convenience of users, the site is equipped with built-in automatic translation of ads into 5 languages.
---
Targeting ads on tamtu.online allows the following parameters to be taken into account:
Geography
Set up ads for people in the country, region, city, or neighborhood. Reach people in locations where your business operates or where you can deliver goods.
Demographics by language
Your advertisement will be seen by potential customers who speak Czech, Slovak, German or Hungarian, or several languages at once. Attract customers who speak the same language as you!
Ad categories
We will show your ads to users interested in, for example, real estate or children's products. Introduce your products or services to a maximum interested audience.
---
Media formats
Static banners
A static banner is an image of a set size. When a user clicks on the image, he is taken to the landing page of your site or social network.
Adaptive banners
Adaptive Banner is a native advertising format that allows you to show users information that precisely matches their interests. Animated banners created in HTML are adapted for all browsers, mobile applications, and devices.

Adaptive banners are displayed correctly on the screens of PCs and portable devices, and a variety of applications can be easily integrated into the ad units: social network buttons, maps, etc.
---
Banner positions
Home page
One of banner in center of home page
---
desktop+mobile
Size 100%x100
Placing a banner on the home page allows you to introduce your product or service to the widest possible audience.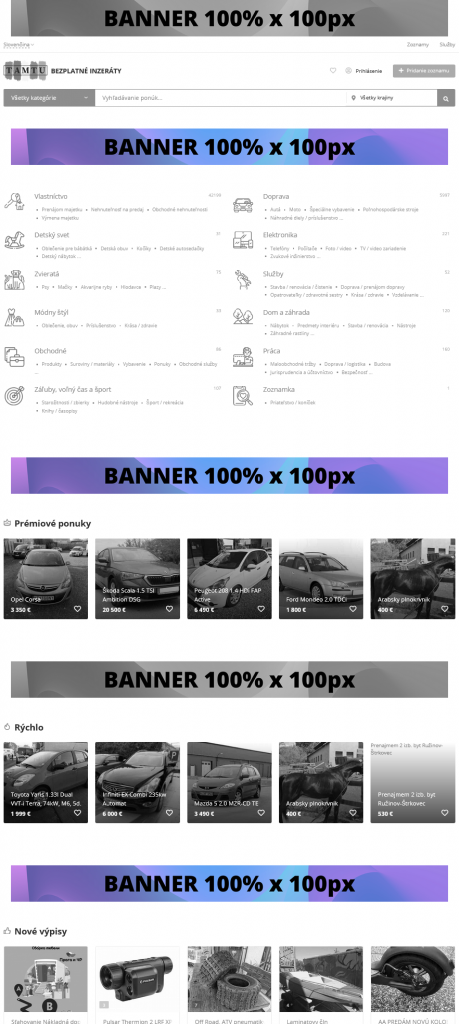 Ad search page
One of banner on the ad search page
---
desktop+mobile
Size 240×400
You can place your ad on the search page of an ad in a particular category or several. For example, offer credit services to users choosing an apartment or a car, or invite users interested in fashion and accessories to a clothing store.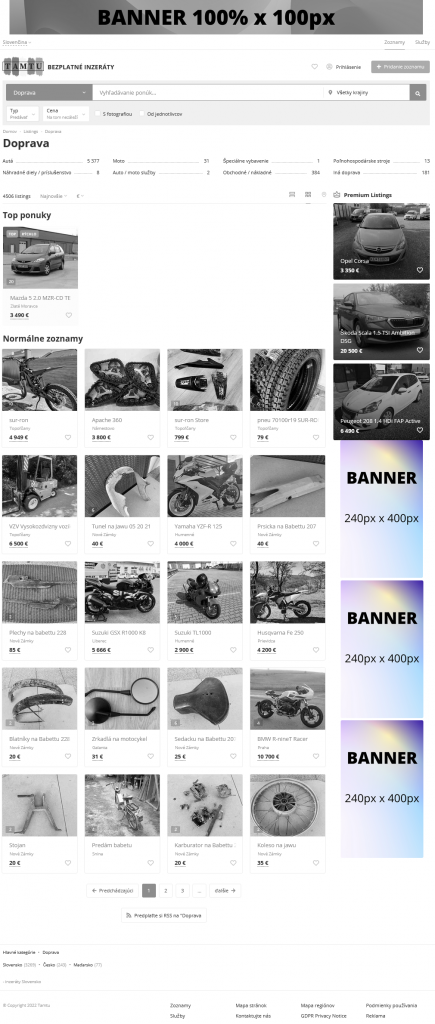 ---
Additional features
Priority banner display. We turn off the adsense traffic and display your banner only. This option is only available if the space is not occupied by other clients. + 20%
You can prefer ordering over a specific number of days (min.five), not over a full month. Then, the cost is calculated by the number of days.
---
Frequently asked questions
Is it possible to order the production of a banner?
We make a banner at the discretion of the creative team, taking into account the wishes of the client only in the actual information part (the essence of the action, details, corporate colors).
What program can I use to make an adaptive banner?
You can create an adaptive banner in the program webdesigner.withgoogle.com
What format should a static banner be in?
Graphic image in PNG or JPEG format.